Little Feat Signed Autographed Vinyl Record LP Waiting For Columbus Bill Payne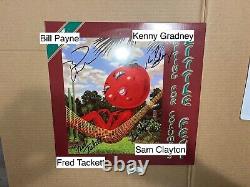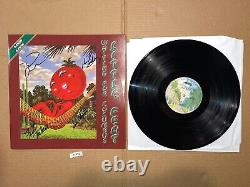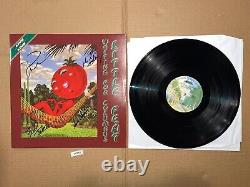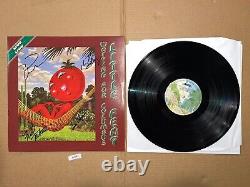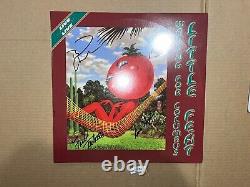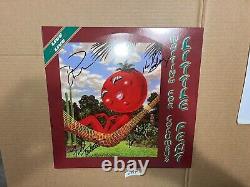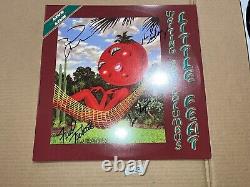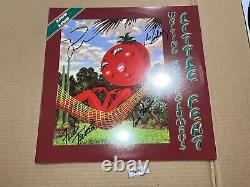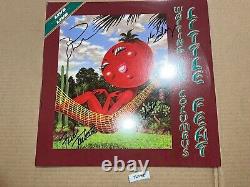 Includes vinyl record LP jacket hand signed by Little Feat (Bill Payne, Sam Clayton, Kenny Gradney, and Fred Tackett). Bill Payne, Sam Clayton, and Kenny Gradney all appear on the Waiting For Columbus record. Bill Payne was a founding member of Little Feat and remains in the band today. Sam Clayton and Kenny Gradney joined Little Feat on their Dixie Chicken album and remains in the band today. Fred Tackett recorded with Little Feat starting on the Dixie Chicken album and has been a formal band member since the band reformed.
Includes vinyl record LP of Waiting For Columbus by Little Feat. Waiting for Columbus is the first live album by the band Little Feat, recorded during seven performances in 1977. The first four shows were held at the Rainbow Theatre in London on August 1-4, 1977. The final three shows were recorded the following week at George Washington University's Lisner Auditorium in Washington, D. Local Washington radio personality Don "Cerphe" Colwell can be heard leading the audience in a "F-E-A-T" spellout in between the first ("Join the Band") and second ("Fat Man in the Bathtub") tracks. The band were backed by the Tower of Power horn section with whom they had recorded for their 1974 album Feats Don't Fail Me Now. Many of their more well-known songs were either re-worked or extended. For instance, one of their signature songs, "Dixie Chicken", was heavily extended to include a lengthy piano solo by keyboardist Bill Payne, a Dixieland horn arrangement and finally a dual guitar jam between the band's two guitarists, Lowell George and Paul Barrère.
In some cases, songs such as "Rocket in My Pocket" and "Mercenary Territory" were re-worked to include the horn section, and Little Feat additionally covered such tunes as Fraternity of Man's "Don't Bogart That Joint" and Allen Toussaint's "On Your Way Down" (which had also appeared on 1973's Dixie Chicken album). Former Rolling Stones guitarist Mick Taylor makes a guest appearance playing slide guitar on "A Apolitical Blues". The band recorded and mixed enough material from these performances for a triple LP, but for marketing reasons kept it to a double album. Three of the unused tracks were included on their 1981 album Hoy-Hoy!
All were eventually released on the 2002 "Deluxe edition" CD. It was voted number 804 in the third edition of Colin Larkin's All Time Top 1000 Albums (2000). The cover art, by Neon Park, depicts items from the Americas unknown to Europeans before Columbus: an anthropomorphic tomato on a hammock in front of a backdrop of American native foliage and cactus.
This is unconditionally guaranteed to be authentic. You will receive this exact item pictured in this listing. This item is hand signed by Little Feat (Bill Payne, Sam Clayton, Kenny Gradney, and Fred Tackett). This item is not auto-penned, stamped, or a reproduction. Guaranteed to pass any third party authentication.
This comes from a professional collector with a background in the music industry with over 20 years collecting authentic memorabilia. You must provide all documentation and correspondence between yourself and the authentication companies listed above. This item is the real deal.