Megan Moroney Signed Lucky Vinyl Lp Only 1000 Worldwide! Autographed Proof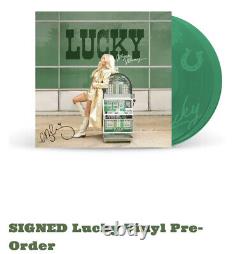 Lucky is the debut album from rising Nashville star, Megan Moroney, and was originally released in May, 2023. The album landed on Rolling Stone's "The Best Albums of 2023 So Far" list, shot to the Top 10 on Billboard's Top Country Albums chart, and drew raves from the likes of HITS, who stated that Not since Taylor Swift has a young woman told the truth so cleverly and completely.
Now available on VINYL, this deluxe version of Lucky features 3 additional tracks with features from Kameron Marlowe & Mackenzie Carpenter, and come on translucent green discs, with a special etching on the fourth side. Buzz has been building around Megan Moroney since the release of the hit track and video, Tennessee Orange.
A major force in her meteoric rise the song premiered in September 2022 and quickly became a viral sensation. 30 on the Billboard Hot 100 and cracking the Top 10 on Billboard's Country Airplay and Hot Country Songs charts, the track later emerged as Moroney's first No. 1 hit on Country radio.
I couldn't live out this dream without the support of my fans, family, and team. I can't wait to bring these songs on the road with me this year & I hope everyone loves them as much as I do!
Sad Song For Sad People. Fix You Too (with Kameron Marlowe). Nothin' Crazy (with Mackenzie Carpenter).