Suspiria 40 (Peacock) & 45 (Deluxe) Anniversary Vinyl Autographed By Simonetti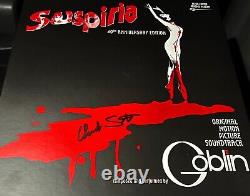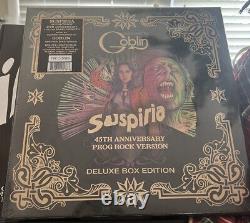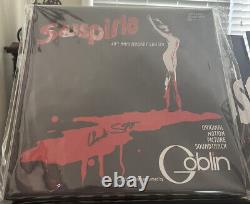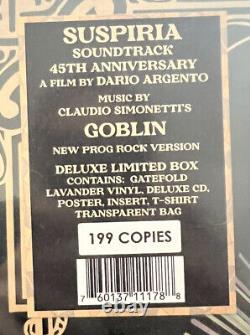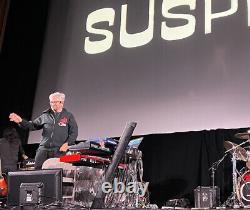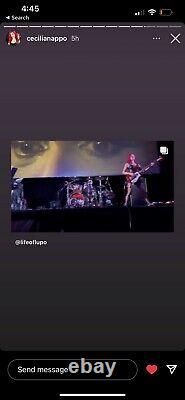 Suspiria 40 (Peacock) & 45 (Deluxe) Anniversary Vinyl Autographed By Simonetti. Two brand new vinyl box sets of the 40th and 45th anniversaries of the release of Dario Argento's Suspiria. One of the the box sets is the only autographed copy of the Suspiria vinyl Peacock Version that exists on earth. I brought a black sharpie, an extra plastic sleeve, and the 40th anniversary Vinyl - still in its original plastic wrap - to Goblin's final tour in San Francisco at The Castro Theater for my birthday. I sat in the front row and approached Claudio Simonetti on stage after the show, telling him it was my birthday in Italian. He only signed my copy. I attached a picture of the show and a repost from the bass player of one of my IG stories filming a clip of the performance. Immediately after, I put it in the protective plastic sleeve you see in the photo. I never opened the box and kept it exposed to the outside air for about 2 minutes. The 40th - limited to 150 handwritten copies - is the "Ultra-Limited Peacock Version, " which includes. Faithful reproduction of the original 1977 "Suspiria" LP - including gimmick inner pop-up - and MC.
A 10 red-coloured LP with rare and unreleased material. Two books, 64 pages each (ltalian and English language).
A CD 8 DVD set. The CD contains the "Suspiria" original soundtrack with bonus tracks.
The DVD contains a documentary including interviews with Dario Argento and Goblin. A unique handcrafted'peacock feather stiletto. Exclusive foam box project with the engraved "Suspiria" logo.
The 45th - limited to 199 copies - is the "Deluxe Box Edition" of the prog rock version, which includes. Gatefold colored vinyl (Exclusive lavender vinyl).
Cover artwork by Simona Simone. Insert - drawing by Simona Simone. T shirt (one size large).